Family Christmas photoshoot ideas can be best when you organize well. Some of the ideas that you may like are choosing to take pictures when snowing, have your Christmas wreaths hanged onto the door, have your kids wear jingle bells at their shoe laces, or to have Christmas hats for everyone, baby included!
Our list of family Christmas photoshoot ideas is a guide for parents or grandparents who want to capture precious moments of their families on the special occasions. These tips include where to have family photoshoot, how many family members in photos, when should you do this photoshoot etc. We hope that these photo shoots will help your Christmas become more joyful and happy. Roll up your sleeves, friends! Then come one, come all!
Gather your smallest ones, put them next to the tree with the gifts on the background. And hey! if you have a fire place don´t forget to put it in the background.
The Christmas tree is one of our most iconic icons in these times, don´t miss the chance of holding your other half and taking a snap of the moment.
3. What did you ask Santa for?
The youngest always inspire the Christmas spirit like no other. Tell them to speak to your ear every gift they asked Santa for. Smile and moment captured. 
So you are looking for a Christmas tree! And guess what you found it! Capture this family instant to get a memorable gift of your Christmas day out! 
5. Your best buddies are ready too! 
It's time to get that list ready. One of their most important moments during Christmas can be missed in a Christmas family shoot. Remember you already put them all together take advantage of the situation. Ad even better pose with them and let a professional photographer do the hard job. And get quality results! 
One of our favorite! Not only the picture but the moment. Because OMG who doesn't love the smell of baking cookies. You will definitely want to include this one in your family Christmas photoshoot album 
Yess its snooow time!!! And we are all super excited, there are many shots that can be taken with snow. Snow angel, snow ball fight, falling into the snow… but none beat the snowman right? 
Well choosing them and finding them was the hard part, wrapping is when the fun starts! A professional photographer can get the best shot of this moment. So your family can see the love you put into their gifts. 
11. Its all about the lights
The songs, the smells but over all the lights. What is it with the Christmas lights that makes everyone so happy? Nothing better than wrapping up in them for a perfect Christmas family photoshoot. 
Who said Christmas is Christmas without Santa´s hat? This is a must shot, make individuals, couples and group pictures, because Santa´s hat deserves it! 
Every Christmas family photoshoot should have one of these pictures. Its as simple as Getting your fire place up and running put some big colorful sweaters on, sit around the flames and there you go. A perfect family scene for your special holiday together.
One of the phew pictures a man really will remember and enjoy taking! Just look to them, are not they cute together? Just the perfect moment to capture, they will both have a huge smile after they have seen this shot! 
Oh yes! put your t shirt in your pants, pull your socks over and start rolling that snow. Because the fight is on! Its important that when you are preparing for the picture there is snow flying all over the place. 
Nature photoshoots are one of out top choices, specially in Christmas. Amazing greenery and Christmas trees on the background in your Christmas family photoshoot will definitely be a total success. Get your cozy blanket and wrap yourself up in it 
Put on your favorite outfit or bring even more outfits and let's rock and roll this Birthday photoshoot!
17. Opening your Christmas gifts
The moment is here! You have been waiting for a while. Looking at them sitting under the tree. Speaking to you "open me". Now you can jump on them and take an extra second to smile to the camera 🙂 
18. Putting the Star over the tree
No other picture defines Christmas better than this one. All the family around the tree preparing it for this Christmas. Don´t miss this one in your Christmas family album.
Every kid deserves this moment! Meeting Santa for the first time will be a memory that the will take with them for the coming years. Let us capture it  and give them a lifelong memory.
20. In front of the socks
Cozy Christmas mornings sitting on your fury carpet! Grab a sweater, heat up some hot chocolate for the young ones and some coffee and discuss what you will be doing this holidays while we capture the best of your moment together.
What more do you want than a family hug in the snow? Nothing shouts out Christmas like a tight hug in the snow wrapped up in your winter outfit.
This shot is so cool! Try it from any angle they all look great! But beware use gloves if you don not want to end up with freezing hands! 
This shot has been popularizing recently. To take this shot perfectly be sure toplay with your cameras focus or even better. Get professional results with a Travel and Abroad photographer. 
Take advantage of the dim light outside and the cozy home environment to site on the couch and have some one take the picture while both of you are smiling
Using the best photographers will ensure that your holiday is captured for prosperity. In all truth, its not really about the picture, but rather the memories. Its about the time spent with family and friends sharing a meal, laughter and stories. Its where our favorite moments are created.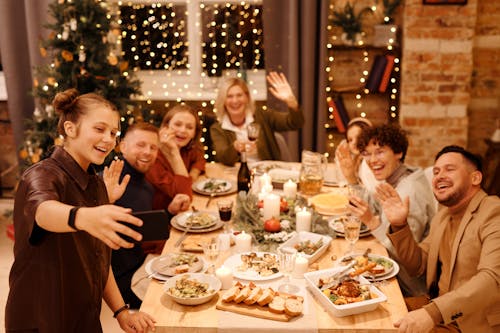 Use confetti for your Christmas pictures. These fun Holiday photo props make great tinsel, garland adornments but most of all Christmas photos!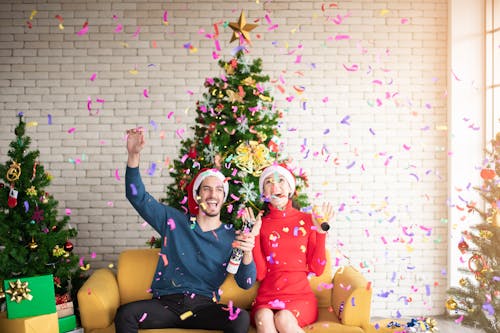 The Christmas gift season is in full swing. Start thinking about the best present to create for your loved one with this Holiday gifts photo. Why not put some thought into it? Make it something they will love forever!!
28. Christmas kiss sandwich
Did you ever wish to have some special Christmas photo with your parents? Are you looking for some Christmas photos to hang on the Christmas tree? This is the best Christmas picture I've found this year.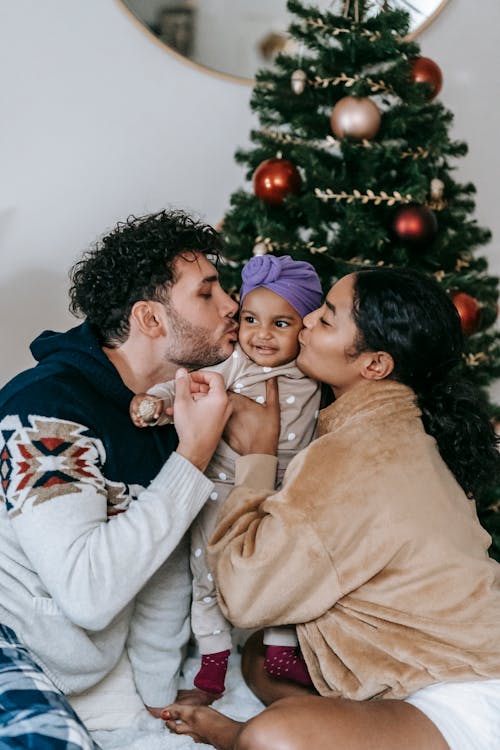 29. Calling the ones that are not here
This is a special shot. And it is an increasing trend. In Christmas we don´t always have all the loved ones we would like around us. The good thing is that times change and thanks to technology we can be closer than ever. If the photographer is there already take the chance to capture this moment and later send the picture to the person on the other side of the camera.
Conclusion
Everyone brings a camera to a family photo shoot, but you will agree that not everyone is a photographer. Especially when the subject is your entire family. That's why we make it easy for you.
Let everyone enjoy the holiday and forget about the camera while we concentrate on capturing your moments
We hope these 29 ideas you are ready for the photo session! the MOST important is that YOU enjoy your big day. 
Not tired of reading yet?? Check our other blogs right now!