I am sure you are looking extremly forward to your holiday in Madrid! And you should look forward because Madrid is AMAZING!! Did your research already start for Madrid? Then stop! Because you don't need to do more research! We offer tours and photoshoots in Madrid city + all cities surrounding Madrid. We will complete your holiday in Madrid! In this blog we will talk about the Photoshoot and tour we have in Madrid and Toledo.
Tour Madrid
First of all, Madrid has so much to offer! If you are planning your trip here, first of all please stay between 3-5 days in this city. People who tell you 1 day is enough is really not true! Because Madrid is the biggest city of Spain and you basicly can't see the city within 1 or 2 days. for that reason you can find everywhere in each city a tourguide or a group while they will show you the city. We are completely different. Our team are professional photographers and tourguides.
You can choose a tour of 1.5 hour of 3 hour. The most popular are the 3 hours to be honest! You will tour Madrid while one of our experienced local tour guides tells you the ins and outs, past and present of the most iconic landmarks. Furthermore the photographers will make pictures at each iconic landmark and the secret spots they will show you. This means you will go home with knowledge about the city + professional pictures from your trip. With the Tour Madrid we will visit the following places:
AREA: Old Madrid
– The Egyptische Tempel
– The Sabatini Gardens
– Royal Palace
– Almudena Catedral
– Colourfull streets in la Latina
– San Miguel market
– Plaza Mayor
– San Gines
– Sol
AREA: New Madrid
– Callao
– Secret rooftop bar
– Gran Via
– Banco Espana
– Plaza Cibeles
– Retiro Park
Tour Toledo
Toledo is BEAUTIFUL! It is such a medieval city where you have the feeling you are walking in a Game of Thrones episode. Toledo used to be the main capital of Spain. There is so much beauty and history to find here. Toledo is known for the city with the 3 cultures, with the influences of the Christians, Muslims & Jews. You really have to put Toledo high on your list while visiting Spain! It is only 1 hour away from Madrid. Therefor we offer the Tour Madrid Toledo.
The Madrid Toledo Tour is including private transportation. So don't look for train tickets or how to get there! Because we will pick you up and bring you back safe to your appartent at the end of the day. The tour will take arround 6/7 hours in total & This is when you choose the full day experienc
Places we will visit in Toledo:
*Zocodover Square
*Muslim Neighbourhood
*Basicila del Cristo de la Luz
*Old Inquisition Jail
*Catedral
*Christian Neighbourhood
*Bishops Palace
*Jweshish Neighbourhoode Madrid Toledo Tour.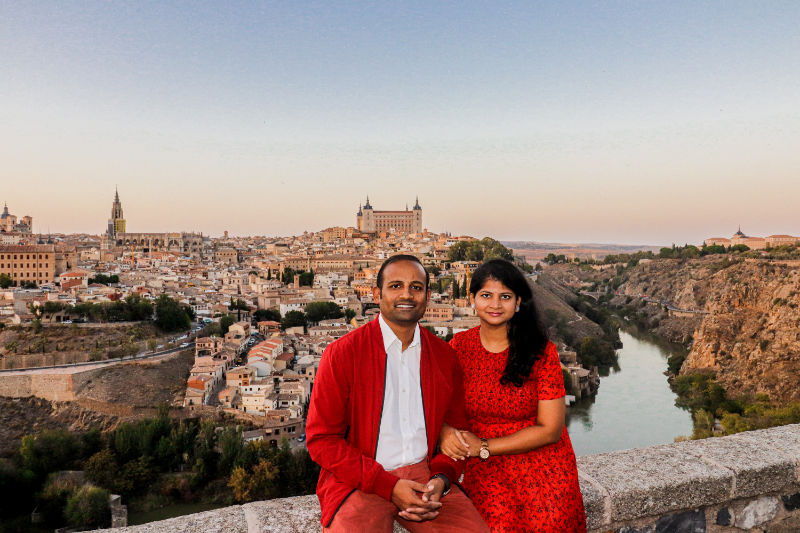 Tour Madrid Toledo
As we explained what we do for tour in each city we also offer the package in 1! The Tour Madrid Toledo it's called. We are flexible so we offer them in 1 day or spread in 2 days. If you choose the package Tour Madrid Toledo in 1 day we will start early in the morning with the 3 hour tour in Madrid by foot. We will start the Madrid tour in the Egyptian Temple and we will finish at 11:00 at the Retiro Park where the car will wait for us to continue our trip to Toledo. We will arrive in Toledo at 12:00 and we will start the tour Toledo over there.
If you prefer to do the Tour Madrid and Toledo in 2 days, that is no problem at all! You can choose yourself what tour you prefer to start with! So think about it?! Your private tour, including transportation, knowledge about the city + professional pictures as a souvenir? If you are interested, contact us now or book via below links!
Check out our tour Madrid Toledo site: https://travelandabroad.com/gift-cards/
See more pictures on our instagram: https://www.instagram.com/travelandabroad/