If you are looking for trips to Madrid then please believe me on our word: BOOK IT!! Madrid is such a beautiful city and has so much to offer! If you are a solo traveler, couple or a big family? Madrid is such a big city that there is literly for everyone something to do, to see or to experience! With our Phototour in Madrid experience we will tell you what you will all see during this experience!
1. Temple of Debod
We will start the tour in front of the beatiful Temple de Debod located in Madrid City. This Egyptian ancient temple is from the second century and was donated to Spain by the Egyptian state for helping save the Abu Simbel Temple. Lot's of travelers to Madrid are not aware of this Temple in Madrid or don't visit it. It is really worth visit this temple. The entrance for this Temple is for free and as well on this spot you have one of the most spectacular sunsets of Spain.
2. Sabatini Gardens
You truly can not miss this spot! If you booked the tour with us, no worries because we will show you all the spots! But defenilty put this on high on your list! The Sabatini Gardens have their privileges location by the Royal Palace what makes them a necessary stop! The beautiful pond surounded by monuments from old kings and queens. Besides that, this beautiful area is amazing for a small picknick!
3. Royal Palace
YES YES YES!!! ANOTHER precious, gorgeaus building you HAVE to visit during your trip to Madrid. Do you recognize when you are visiting a city.. And there is a waiting line in front of a building or monument and your brain is telling you… Let's go and have some lunch somewhere? For the first time in my life I would say: IF there is a line.. wait! Because this is so extremely spectaculair to see and so worth your money! The entrance is 12 EUR a person to get in. The constructie of this palace began in 1738 and took over 16 years to complete!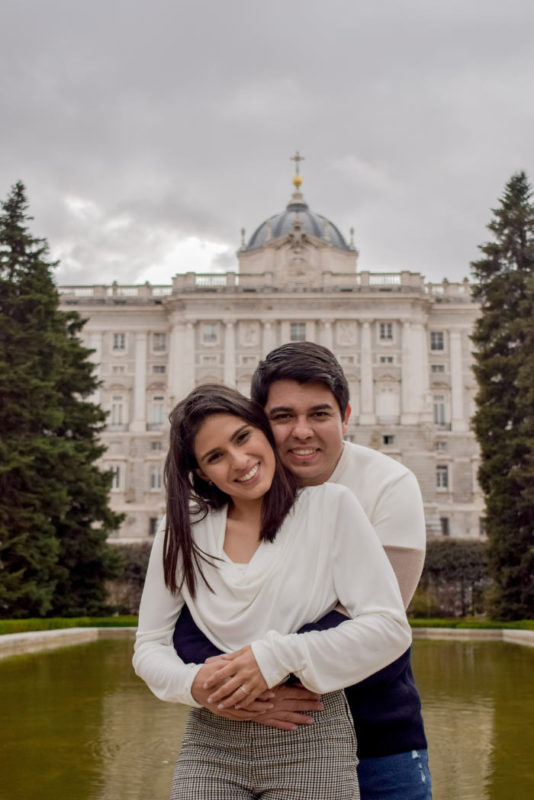 4. Colorful streets of La Latina
With the Phototour in Madrid we will also show you this colorful streets in the buzzing area La Latina. One of the most famous streets is called Calle Cava Baja. A busy beautiful street and area in the very heart of Spain's emblematic capital. It is one of the most lively streets of Madrid. So make yourself ready to make a beautiful picture during your phototour Madrid and make yourself ready for some nice tapas here!
5. San Miguel Mercado
This super populair food market is more then 100 years old! A beautiful historical building which stands out as one of the word's main gastronomic markets! The food can be a bit expensive but you can defenitly find tapas on each price catogory and the presentation from the food is already worth having a visit. During the Phototour Madrid we will stop here so you could try some of the famous spanish tapas and ofcourse to make a beautiful picture in front of this old building.

6. Plaza Mayor
A plaza what will take your breath away for a second! The colors, the size and the architecture are next level here! As the square is 129 meters long by 94 meters wide you can imagine it is a very big plaza. This beautiful plaza is surrounded by a three-story building with porches all along the plaza. Historically it's been a meeting place, and used for civil announcements and celebrations. It's filled with commemorative plaques, historic places and other symbols.
7. Puerta del Sol
The Sun's gate! This big plaza is a important plaza for lots of companies and for the spanish people as a meeting point. As the 0 kilometer point starts here, we can say this plaza is literly in the middle of the city centre.
8. Gran Via
Well I think we can all say.. Gran Via is the most known street in Madrid! Typ in google Madrid and you will get the famous Metropolis building based on the Gran Via. Very important street for Madrid business as for tourists. From small companies to big companies and to many restaurants you can all find them in this street. Besides that you can find here everything. It is also truly a beautiful street to walk on it !
9. Plaza de Cibeles
Another defenitly must see spot in Madrid and ofcourse we will also go here during the Phototour in Madrid. Plaza Cibeles is surounded by beautiful big and important buildings. The first one and (believe us..) you can't miss this building is called the Palacio de Cibeles. This big building was the old postoffice of Madrid. Now adays Madrid's most emblematic places and is been the seat of the Madrid City Council.
Palacio De Buenavista, here you can find the headquarters for the Spanish Army.
Also visable on this Plaza is the Banco de Espana. Beautiful big building opened in 1891. It serves as the headquarters of the bank of Spain.
10. Puerta de Alcalá
Another landmark you can't miss!! In fact, The Puerta the Alcalá is on of Madrid's most famous Landmarks! This classical triumphal arch is situated in Plaza de la Independencia, close to the main entrance of the Retiro Park.
The Gate was inaugurated in 1778 by the Italian architect Francesco Sabatini, who spent most of his life working in Madrid for the Spanish Royal Family. The Puerta de Alcalá replaced a brick monument from the sixteenth century that King Charles III had demolished years earlier.
11. Retiro Park
The most important park in Madrid!! Besides that Retiro Park is considered as most important park. It is also truly on of the most popular places to visit for both locals and tourists. The park is 118 hectares of green space in the middle of the city centre.
Plan a day for a nice picknick here or to read a nice book! The Retiro Park is packed with big monuments, galleries, statues, lakes and magnificent buildings.
Book your Phototour in Madrid now with Travel and Abroad!
Would you like to visit all places above with professional pictures? Then we have the best experience for you! You will get a tour from a real local and professional photographer who will tell you the history of all the spots.
Besides knowledge, we will make beautiful pictures which we capture during your tour. Via this way you don't have to worry anymore about cool pictures from your trip and you can relax the other days of your trip!
We do every tour in private and it doesn't matter for us if you are a solo, couple or a group of friends or family! The experience is really about YOU so it's a YOU time! You can bring as many clothes as you want if you want diversity in your pictures.
After the Phototour Madrid you will defenitly have a new friend in the city! We love to meet you and to get to know you! You will receive your professional pictures all edited within 72 hours.
Check out the Private phototour Madrid: https://travelandabroad.com/gift-cards/
You can also have a visit to our instagram and to see our portfolio: https://www.instagram.com/travelandabroad/